MBA International – 6 Weeks in Europe
"A never before Opportunity for Indian Students"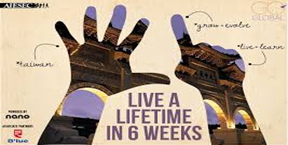 St. Hopkins MBA college in Bangalore has associated with numerous universities and organizations abroad for Global Internship Programs, International Placements and International Internships in MBA, MBA Students can opt for 6 weeks internship available in any of the countries Such as Poland, Turkey, Ukraine, Istanbul, Russia and European countries.
The Internships are mainly on Marketing, Management, Human Resource and on social projects. Having an international exposure early in a career is a great advantage for MBA students, these internships also help MBA students in getting placed internationally post course completion. As there are greater chances for students to get international jobs for those who Intern abroad during their studies.
How International MBA Works
Students who choose International MBA are registered for Global Internship Program in the 1st semester after their return from Malaysia and resumes are sent to our partner organizations and Universities in various countries, once the resume is shortlisted the student is then eligible for internship abroad.
Fees
St.Hopkins college shall bare flight charges, Accommodation, cost of finding the internships and all other fees and expenses arising towards internship , except food , visa charges.
Features of International MBA
Orientation in Malaysia in 1st sem MBA
6 weeks internship abroad ( Europe, Egypt, Turkey, Russia )
Entrepreneurship training from IIM Calcutta
Placements from 3rd sem with a minimum package of 3-3.5 lacs p.a
Free Laptop
Total fees 4.6 lacs for 2 years inclusive of international trips
Fee Structure:-
| | | | |
| --- | --- | --- | --- |
| Admission fee | 1st yr | 2nd yr | Total |
| 10,000 Rs | 3,00,000 Rs | 1,50,000 Rs | 4,60,000 Rs |
Note: Other fee includes - Exam fee to be paid every sem, Visa and insurance charges for all the International trips.
Eligibility: -
Graduation In any discipline with good communication skills. Candidates must have their passports ready before the start of the session.
Other key points
St.Hopkins is the only college to organise international internships
We are the only college to organise orientation abroad
Students are issued placement guarantee letters at the time of admission with an assurance of 5 interview opportunities with a minimum salary of 3-3.5 lacs
Students complete MBA with 1 year of work experience and also recover their fees within one year of MBA
At St.Hopkins studies are completely practical , as every topic is taught through activities , tasks and case studies
This program would change you into a great professional, as you would get international exposure as well as work experience; students get a chance to get better job profiles with bigger pay packages during final placements.
Apply Now
Opening At BigRock As Management Trainee
MBA Students :- Opening at Bigrock.com , as Management Trainee , with a annual CTC of 5.25 lacs P.A .
Interested Students can send their resumes at placements@hopkinscollege.com immediately .
International Internship Experience
"My internship was a 6 weeks project in cairo, and my project was all about international marketing where I have to promote the international organization which is AIESEC ,EGYPT.
Internship was amazing, meeting different people and working along with them teaches you 1000 new things.
Talking about me ,I feel I am a totally changed personality from what I have been, taking up a project in some different country."

Robin Kumar